Okay, many have told me that the pics are too small, so I'll post them as "big" this time. ;)
Day 4 started early b/c we were driving down from Rome to Pompeii. We were on the road by 7am for the 2.5 hour drive. We drove right through the heart of
Naples or Napoli
. From a distance the city is beautiful being on the coast of Italy and halfway b/w 2 volcanoes, but the city is old and horribly dirty. It has had a long history of
problems with trash pickup and corruption.
We didn't see trash pileups as bad as in the article, but we did see HUGE piles of trash...and that was from the bus. I can't even imagine the places you can't see easily. But look at this pic from a distance...gorgeous!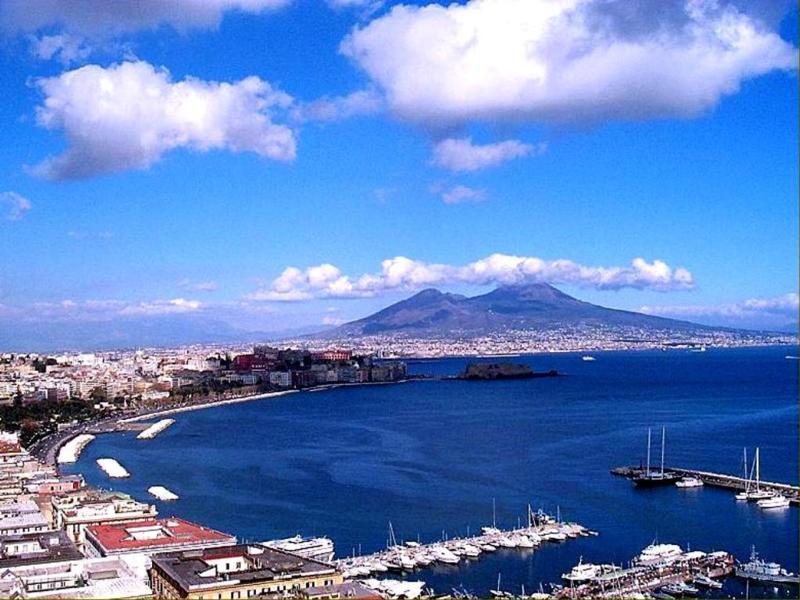 But we were headed to
Pompeii
, the ancient Italian city that was completely covered with ash from the eruption of Mt Vesuvius in 79AD. It's so famous b/c the people of Vesuvius were "frozen" in time. Pompeii was "found" in the 1700's and excavations were begun. But it wasn't until circa 1860 that plaster casts were made to recreate the decomposed bodies. Over the years many (majority?) of artifacts from Pompeii have been doled out to museums. This is a computer-generated pic on Wikipedia that "shows" what the eruption might have looked like:
Both D and Ch had read about Pompeii, so were looking forward to it. I was, too, especially about taking a lot of pics. Well, here's a little tidbit for you, buy the 7E batteries from the vendors before you go in. LOL At first I thought I am NOT paying 7euros for 4 batteries...that's about $11. Well, a few pics in, my batteries died. *sigh* So, here's what I got. LOL
First views before actually entering:
First view inside
Amphitheater
Steets of Pompeii
See those big stones in the middle of the road? They were used for people to walk across the street...especially in the case of water in the roads. The chariots' wheels were able to fit around the stones and this was actually a 2 way street.
And that's where my camera died. LOL But I found some images on flickr.com:
Here's a link for a
fountain
...they all had different "faces" so that they could be used when giving directions.
Our tour guide was an older gentleman named Roberto. Sooo fun! He brought us to the Pompeiian brothel. He said if any of the kids had any questions they should ask their parents. He also mentioned the pics of "things" that went on in the brothel, including "70-1." LMAO I also added the "sign" that are around town that pointed to the brothel. :) Charlie said it was an arrow. ;)
We then headed to the Pompeii Forum where I got a few more pics b/c my camera had rested and re-charged.
That's Mt Vesuvius right behind Cory's head. :)
I thought there were going to be areas, at least one room, that were going show how life was the day that Vesuvius erupted, but our tour didn't include that. Boo. But there were at least 3 open rooms w/ a wall of cage-like bars w/ remains...a few plaster (or resin) casts and hundreds of jars, bowls, pottery and such.
What was very interesting is that Pompeii used to be a city on the coast/beach. Now the coast is far away, um, I could look that up to find the distance, but I'm not. ;) But Charlie found quite a few seashells as we walked around. Neat, huh?
So, overall, Pompeii was interesting. Not exactly up to my expectations (it is one of the top destinations listed by Smithsonian Magazine), I was a bit disappointed b/c our tour didn't include some of what I wanted. I did find pics on flickr. But Pompeii is huge. Only 3/5 of the town has even been excavated. So, maybe we can go back one day and have a longer and more inclusive tour. I do recommend it, though. ;)
The rest of the day was still along the Coast to Sorrento. That will have to be done tomorrow.
Enjoy!